Our Services
Serving San Bernardino County
We can fix all major appliances including:

* Washer Repair
* Dryers Repairs
* Stove Repair
* Oven Repairs
* Microwave Repairs
* Refrigerator Repairs
* Dishwasher Repairs
* Trash compactors Repairs
* Garbage Disposals
* Wine Coolers
* Kitchen Exhaust Fans
* Heating & Cooling

Call us now at (951) 278-9267. We Repair All Major Appliances and Brands!
About Us
Appliance Repair Ontario CA
Jim Appliance Repair in Ontario, CA is dedicated to keeping your appliances up and running! While many customers have sought our washer repair and dryer repairs, we are trained in a multitude of other appliance repair services. Backed by years of extensive training and experience in the field, our major appliance repair technicians have undertaken a myriad of jobs. You can have confidence in us knowing our heating & cooling repair and kitchen appliance repair service will determine the issue with your appliances right away. Jim Appliance Repair in Ontario, CA is your city's exceptional choice for small and large appliance repair service!

Do you need washer and dryer repair service? If your appliances are not working properly, we are here to help. We can fix all major appliances including washers/dryers, stoves/ovens, air conditioners, microwaves, refrigerators and more. Stove repair and oven repairs are just a few of the many jobs we carry out. We know you have many other appliances in your home that require a professional's application. With our direction and effective repairs, we are able to completely fix your inoperable appliance right away. Get your household chores in momentum with our microwave repairs, kitchen exhaust repair and dishwasher repairs! Ask us about our garbage disposal repair service prices today. We have been known to save our beloved customers money!

Why spend a pretty penny on refrigerator repairs, when you can turn to Jim Appliance Repair in Ontario, CA for unbeatable service? Aside from most common home appliance repair service, we also provide wine cooler repairs and trash compactor repairs. We employ disciplined and friendly technicians on board with a passion for their field of work. Consider our Ontario, CA appliance repair professionals for your malfunctioning home appliance.

We offer same day service for appointments scheduled before (12:00pm) noon. Since we are always in your area, we will not charge you travel time. Hire us to take care of your large and small appliance repair service!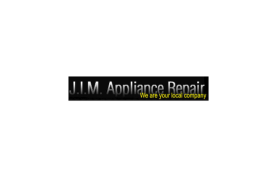 Appliance Repair Ontario CA
---
Payment Methods
Mastercard, VISA, Cash